Location
The charm of the Noto Peninsula lies in its beautiful nature, rich culture, and warmhearted people. If you close your eyes and listen, you'll hear the sound of the waves by the sea, the rustling noise of the trees in the mountains, and the sounds of the drums and whistles of the Kiriko Festival on summer evenings. The peninsula is blessed with ingredients thanks to its topography featuring the sea, villages, and mountains.
Noto Sailing Adventure has a base in Nakajima-machi, Nanao City, a particularly idyllic area that is not too touristy, even in Noto. Near the yacht harbor there are some casual dining halls where locals go, along with sceneries that, while not special, do wonders for your heart. There is easy access to the attractions in Noto by car.
Enjoy both the relaxing time that passes in this place and the sailing experience.
Nearby restaurants and shops
---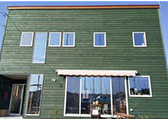 Enjoy Thai cuisine and drink fair-trade coffee while looking out at the sea. The Sailing Adventure reception is located here.

Oysters are Noto's specialty. This oyster restaurant operated by a fishery company serves magaki (pacific oyster) in winter and iwagaki (Japanese oyster) in summer.

This restaurant run by a former sumo wrestler serves oysters, Chanko-nabe (fish, meat, and vegetable stew traditionally eaten by sumo wrestlers), and fresh seafood from Nanao Bay.

This restaurant is run by the landlady on her own. It is popular among overseas customers as she communicates with them by making hand gestures.

Housed in a 130-year-old refurbished folk house, this soba restaurant is crowded every day with many customers looking for the handmade soba.

This "convenience store" in the countryside sells everything from groceries to daily goods.

This is a train station of the Noto Railway that runs on the eastern shore of the Noto Peninsula. From the platform, you'll see rice fields and scenery of the sea. The old wooden station building is also appealing.

This mansion that belonged to the Muroki family, who were wealthy farmers during the Edo and Meiji periods, is open to the public (admission fee required). It is a splendid house with a hipped, thatched roof.

You can see everything from this observation spot, including a panoramic view of Nanao Bay, gradual terraced rice fields, and houses with black roof tiles that are unique in Noto. Please ask the staff for the location.

Nakajima Sarutahiko Onsen Iyashi-no-Yu
Have a long bath while looking out at the sea at this hot spring day facility, located along Nanao Bay and with a sea breeze.

Public accommodation
Noto Komakidai
Although this is accommodation, day bathing is also possible. It is located on a small hill overlooking Nanao Bay.

Leading Japanese actor Tatsuya Nakadai was involved in the construction of this theater facility. Theater fans gather here from all over the country. (About 5 minutes by car.)
Tourist attractions in Noto
---

At the aquarium in the middle of Notojima Island, you can see the whale shark," which is rare in Japan. (About 20 minutes by car.)

This is one of Japan's three major morning markets. Stalls selling fresh seafood, dried fish, vegetables, folk crafts, and the like line up on both sides of the street, which gets crowded with shoppers. (About 50 minutes by car.)

Chirihama Nagisa Driveway
Japan's only sandy beach where you can drive along the edge of the waterline. Enjoy a refreshing drive along the 8-km-long foreshore. (About 30 minutes by car.)

This street with historic buildings lined up still contains traditional shops such as a soy sauce storehouse and Japanese confectionery and candle specialty shops. (About 20 minutes by car.)

All the charms of Noto such as food and crafts can be found at this tourist facility. It is perfect for anyone looking for souvenirs. (About 20 minutes by car.)

The rias coast made up of small and large coves is one of the 100 Landscapes of Japan. Enjoy snorkeling, camping, and the excursion boats that depart from here. (About 40 minutes by car.)
---
*Please contact the Sailing Adventure staff for how to access each site and detailed information.
*We will introduce other attractions in Noto at your request.